The Széchenyi Chain Bridge is a suspension bridge that spans the River Danube between Buda and Pest. Designed by the English engineer William Tierney Clark and built by the Scottish engineer Adam Clark, it was the first permanent bridge across the Danube in Hungary. It was opened in 1849.
The bridge has the name of István Széchenyi, a major supporter of its construction, attached to it, but is most commonly known as the "Chain Bridge". At the time of its construction, it was regarded as one of the modern world's engineering wonders.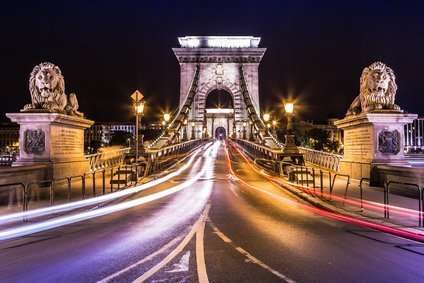 The lions at each of the abutments were carved in stone and they are similar in design to the bronze lions of Trafalgar Square. In 2001 Hungarian stunt pilot Péter Besenyei flew upside down under the bridge, a manoeuvre that became a standard in Red Bull air races – until they operated.
The bridge is featured in I Spy, Au Pair, Walking with the Enemy and other. Also, in Katy Perry's music video for "Firework", it is featured at the beginning. The climax scene in Bollywood blockbuster Hum Dil De Chuke Sanam was also shot on this bridge.
According to the urban legend the bridge is pushed into the tunnel in case of a rain, but that is naturally not true.
There is a similar bridge in Marlow, UK, however no lions guarding that.